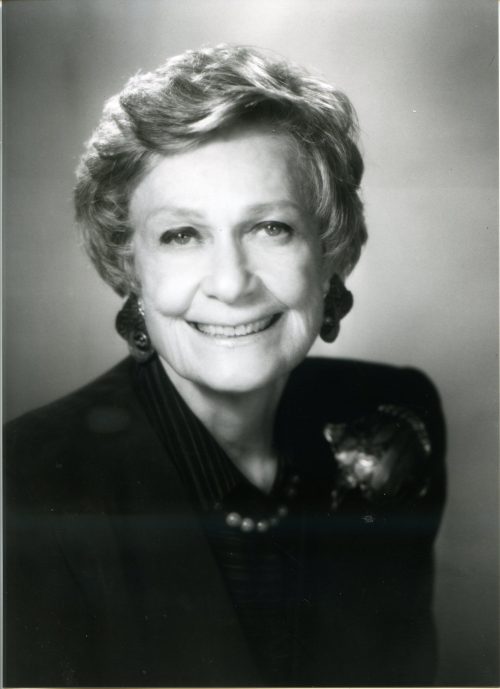 Ruth Nelson cares about people. In an environment where it has become fashionable to boast of one's compassion, Mrs. Nelson makes no boasts. Instead, her life of dedicated service to those less fortunate than herself embodies compassion on a daily basis.
Mrs. Nelson arrived in Tulsa with her family as a young child, after the rise of Nazism made their lives in Germany impossible. She left the city to attend Bryn Mawr College, an institution with which she remains closely linked through her service as Vice Chair of the Executive Committee of the university's Board of Trustees.
Many human service organizations in Tulsa have benefited from Mrs. Nelson's commitment. When she becomes involved she is, more likely than not, asked to take charge. Her belief that affordable housing is essential for the health of any community led her to involvement with the Tulsa Housing Authority. She assumed leadership of the authority in 1991 and ushered in dramatic changes to Tulsa's public housing. Long neglected repairs were made, programs for the benefit of residents were implemented and, today, flowers grow where once there were none.
Taking a cue from her mother's belief that society should be accessible to everyone, Mrs. Nelson dedicated countless hours to the Tulsa Center for the Physically Limited. She shared not only her financial resources, but also her forward-thinking management skills. She is a Board member and Past President.
Mrs. Nelson's belief that women must be served with education and health care took her to Planned Parenthood of Arkansas and Eastern Oklahoma. Serving on the Board since 1985, including a term as President, she earned the devotion of Planned Parenthood's entire staff.
While it might seem that she would have little time for other endeavors, she has a long list of personal accomplishments. She is a businesswoman, an expert scuba diver, an avid tennis player and a scholar of William Faulkner. She has raised four children whose own accomplishments rival their mother's. She is a friend whose loyalty cannot be questioned. Never one to seek limelight or honors, Mrs. Nelson's reward is personal, a knowledge that her compassion for others has made a difference.