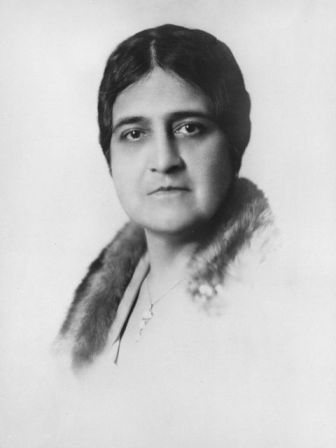 Roberta Campbell Lawson sought to achieve a "spiritual balance" between her Native American heritage and the modern world. This was one motivation for her tireless activities for the benefit of education and the Arts.
Mrs. Lawson was born in Alluwe, I.T. in 1878, the daughter of a prosperous cattleman. Since there were no public schools in the territory, Mrs. Lawson's early education was in the hands of private tutors. Her formal education was completed at Hardin College, where she studied music and literature. However, the most dramatic force in her education was not from textbooks, but from her maternal grandfather, Rev. Charles Journeycake, the last chief of the Delaware Indians. From him she learned the legends and chants of the Delaware people, as well as an appreciation for the world of nature.
She married Eugene Lawson and established a home in Nowata in 1901. His lucrative law practice and banking interests were superseded by the oil industry when the boom hit Nowata. His financial successes gave Mrs. Lawson freedom to pursue her personal interests and were responsible for the family's move to Tulsa in 1917.
The women's club movement was an important forum during the first half of the 20th century for women to address social and political issues. Mrs. Lawson was quite active in this arena, both locally and on a statewide level. For more than twenty years she served in a variety of offices and in 1935 was elected President of the General Federation of Women's Clubs, and made her responsible for the efforts of over three million women around the country. This position gave her access to national leaders including Franklin Roosevelt and Will Rogers, both of whom admired Mrs. Lawson's abilities and modesty.
Mrs. Lawson became a passionate collector of Native American materials. The collection of art, artifacts, and supporting archival materials that she donated to Philbrook have become an important educational resource. Through this legacy and the foundations she laid at educational institutions throughout Oklahoma, Mrs. Lawson has allowed generations to learn of the balance between her Native American Heritage and their own world.