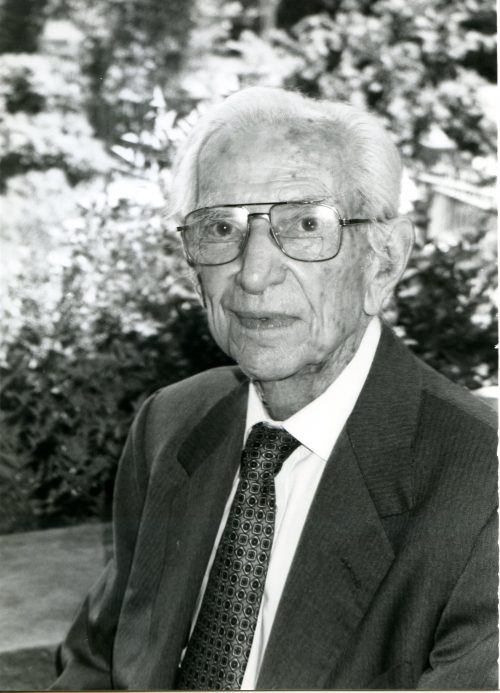 Before there was an Oklahoma, there was Maurice De Vinna; his birthdate coming several months before statehood. This is quite fitting, as Mr. De Vinna embodies what is best about his native state.
Mr. De Vinna, whose family tree includes branches of prominent pioneer families, attended Phillips Exeter Academy (but, in true Tulsa fashion was graduated from Tulsa Central), and was the first native to be graduated from Harvard University. He received a Carnegie Art Scholarship in 1933 and was the first Oklahoman to earn a degree from the Sorbonne when he received a Brevet d'Art.
His journalistic career, which would span 43 years, began in 1934 with his appointment as Art Critic and Fine Arts Editor for the Tulsa World. Mr. De Vinna's writing was noted for fairness and for encouraging positive achievements. Many Tulsans attribute the growth of the city's performing arts organizations to his nurturing criticism.
A competent artist in his own right, Mr. De Vinna won first prize in both the painting and the sculpture categories in the 1934 Tulsa Art Association Annual. His involvement with the visual arts included his work as Director of the Tulsa Art Association. As Director of the local Works Progress Administration, he organized exhibits and educational programs throughout Oklahoma.
Mr. De Vinna was active in the organization of the Tulsa Civic Ballet and still serves on the Board of Directors of what is now Tulsa Ballet Theatre.
His fluency with languages and his knowledge of the Arts were used by the U.S. Army during WWII. Mr. De Vinna worked as an interpreter during the war, was charged with the repatriation of French art works after the war and served as an interpreter at the Nuremberg Trials.
Upon his return to Tulsa, he became a charter member of Alliance Francaise, served as Honorary French Consul and was named Chevalier in the Ordre des Palmes Academiques for the advancement of the French language and culture in 1977. As the city's unofficial ambassador, the number of friends he has won for the Tulsa is matched only by the number of Tulsans who call Mr. De Vinna "friend."