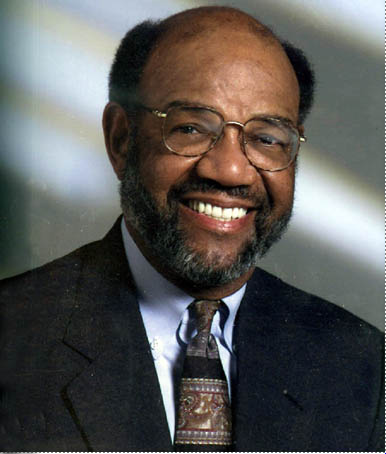 Lifelong Tulsan, Julius Pegues graduated from Booker T. Washington High School in 1953 as valedictorian and a star basketball player.  He wanted to be an engineer, but racial segregation denied him entry to any Oklahoma college that offered such a degree.  Tulsa oilman E. Alex Phillips, a University of Pittsburgh graduate, had seen Pegues play basketball and helped pave the way for him to enter Pitt.  After spending a year at a Detroit technical school taking advanced mathematics, Pegues enrolled at Pitt.  He would become the school's first black basketball player.  When he arrived he was classified as a walk-on.  He won a scholarship when he averaged 20 points a game in his first month.  Along with being Pitt's first black player, he was one of only 34 players in the school's basketball history to reach 1,000 points in career scoring.
Pegues went through Air Force ROTC at Pitt, and after graduating with an engineering degree, he studied meteorology at Saint Louis University and became a weather forecaster in the Air Force.  Returning to Tulsa, Pegues worked for Douglas Aircraft and American Airlines.  He now works as a consultant for the Federal Aviation Administration.
His commitment to human rights, human relations, and equal education opportunities led him to involvement across the community. He served on the boards of the Tulsa NAACP, Tulsa Urban League, Tulsa Comprehensive Health Services, Family and Children's Services, Hutcherson Branch YMCA, Tulsa Housing Authority, and Tulsa Board of Education Human Relations Committee. He is a member of the City of Tulsa Economic Development Commission.
He also served on the Mayor's Economic Development Task Force, Tulsa Public School's Task Force on Enrollment, Goals for Tulsa Steering Committee, Goals for Tulsa Task Force on Education, Citizens Coalition for Community Development, and Tulsa Economic Opportunity Task Force.  Pegues also was a member of the Coalition for Quality Education, which developed the voluntary desegregation plans for Booker T. Washington and what is now Carver Middle School. He also leads the commission planning the memorial to Tulsa's 1921 race riot, the John Hope Franklin Memorial Museum of Reconciliation.
Pegues has been honored by the Oklahoma Education Association Tuskahoma Brown Miller Citizens Award, named as one of the 1971 Outstanding Young Men of America, and given the North Tulsa Optimist of the Year, Sigma Gamma Rho Community Service, and the YWCA Community Service awards.
Pegues is married to Dr. Wennette Pegues, and they have three children, Mary, Michael, and Angela.