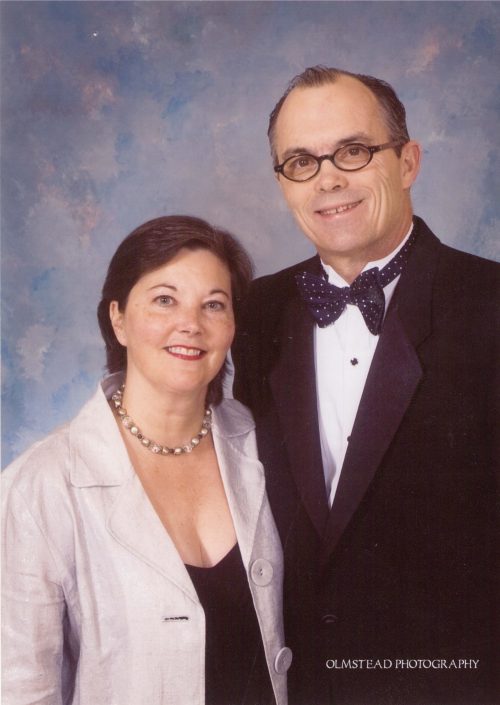 Jim and Juley met in Oklahoma City on a blind date in 1983. At the time, Juley was practicing law and Jim was working for the Oklahoma Press Association, the state's newspaper association (OPA). Their first date was attending OPA's annual dinner, where Juley also met Jim's parents who were attending as publishers.
Both had graduated from the University of Oklahoma, though their paths never knowingly crossed in Norman. Jim had four sisters; Juley three brothers. Both their families loved cooking and gathering together. Both loved their work, and each had a dream of living in New York City one day.
After marrying later that year, the couple fulfilled their dream and moved to New York City in May, 1984 where Jim was hired as the President of a branch of the National Newspaper Association. In July, their first child, Emily, was born.
Jim and Juley moved to Tulsa in 1986. Juley immediately resumed her practice of oil and gas law, and Jim developed the idea of starting a publishing company Jim dove head-first into the work of bootstrapping a small business; endeavoring to create a city magazine for a city in which he had lived only a few months. TulsaPeople's first issue was published in November. In 1988, the couple's son, John, was born.
Juley practiced law for the next 10 years. Though the couple has always co-owned Langdon Publishing (LP), Jim was the one who devoted the time and energy to growing it into a solid company. Today, LP also publishes The Tulsa Voice, Intermission magazine, the Tulsa Guest Guide, digital products and custom publications.
About 20 years ago, Juley joined Jim at LP and her assistance enabled the company to achieve significant expansion. Over the latter half of the company's existence, TulsaPeople has earned 192 awards for journalism excellence, including three national awards. The Tulsa Voice and Intermission are also award-winning publications. Following in his father's footsteps, Jim was inducted into the Oklahoma Journalism Hall of Fame in 2006.
Juley and Jim have been privileged to serve on many non-profit boards, committees and vestries, and have co-chaired multiple fundraising events. Juley's idea in 2007, "Cooking for a Cause", is now the signature annual fundraiser for Iron Gate. Jim has been honored with Leadership Tulsa's Paragon Award. TulsaPeople is a recipient of the prestigious Pillar Award presented by the local chapter of the Association of Fundraising Professionals, an award presented only in the years the organization believes an individual or company has earned the honor.