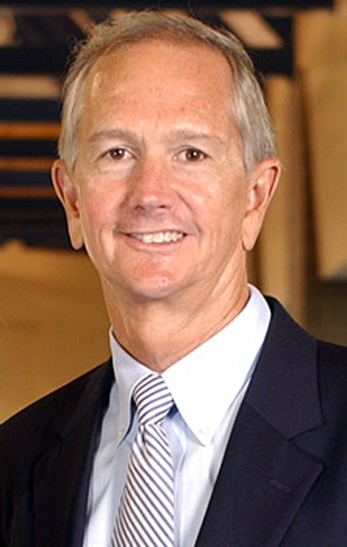 George Fulton Collins III sought challenges for himself and created opportunities for others during his 65 years that was a model for a life well lived.  He died July 30, 2008.
A Tulsa native, Collins earned three degrees from Stanford University, where he studied business and economics in the 1960's. He completed a bachelor's degree in economics, an MBA and a master's degree in operations research at Stanford and pursued learning throughout his life.
He was vice president of Syntex Corp., a pharmaceutical company based in California,  from 1971 to 1980. He returned to Tulsa to assume leadership of the family glass business serving as chairman and chief executive officer of Liberty Glass from 1980 to 1994. He founded Collins Investments and served as chairman and CEO from 1994 to 2008.
Collins joined the University of Tulsa board of trustees in 1993 serving as chairman from 1997 until May of 2008.  During that time, TU's endowment doubled and its physical plant grew by 1.2 million square feet at a cost of $186 million. 

He oversaw the hiring of two TU presidents and was responsible for two new buildings on campus: Collins Hall, housing admissions, alumni, financial aid, and some other administrative offices; and the Fulton and Susie Collins Fitness Center. 

Collins was instrumental in upgrading the college's master of business administration program, including a $30 million campaign for additional faculty and student scholarships. In 2008, TU renamed its College of Business Administration for Collins and presented him with its first diploma, an honorary doctorate.
In addition to his devotion to TU and his family, Collins taught himself three languages, ran, hiked, and played tennis, and had a life long passion for travel which began in his teen years with globe circling trips.
Collins married Suzanne "Susie" McCabe in 1977. He had four children, George Fulton IV, Carolyn, Suzanne, and Catherine and three grandchildren.
George Fulton Collins brought happiness to his family and others because it was second nature for him and, with his youthful outlook and high energy, his memory endures as one of Tulsa's most admired and effective community leaders.