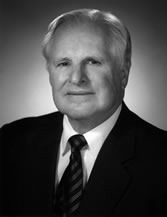 Edward C. Lawson, Jr. is an oilman, philanthropist, American Impressionist art collector, and politician who has entertained George Herbert Walker Bush, Lady Margaret Thatcher, Ambassador Claire Booth Luce and other luminaries in the historic Tulsa home he shares with his wife of nearly 50 years, the former Jay Dorn Bird. Mr. Lawson was born and raised in Tulsa and graduated from Lawrenceville Preparatory School and Cornell University. He joins his grandmother Roberta Campbell Lawson in the Tulsa Hall of Fame. His business career began with AMOCO in Denver in 1956. He joined the Lawson Petroleum Company in Tulsa in 1960 and became its President.. The Lawson family drilled its first oil well in Oklahoma before statehood and Lawson Petroleum properties maintains oil and gas interests in various states and countries, both on and off shore. Mr. Lawson has been active in banking and was a founding Director of Banc First, Tulsa. He operates real estate holdings in Kansas, North Dakota, Texas, Louisiana, and Oklahoma including the Lawson River Ranch, which produces cattle and winter wheat along with being one of Oklahoma's largest pecan suppliers.
Mr. Lawson has been active and influential in Republican politics, serving as County Chairman, being a delegate to three National Conventions, and raising funds at the national, state, and local levels. He has served on the Advisory Board of the Kennedy Center, attended two White House State Dinners, and was invited three times to the Oval Office.
He is a former Chairman of the Tulsa Civil service Commission and has served a director of the Tulsa Salvation Army, Gilcrease Museum, Tulsa Opera, the Philbrook Museum of Art, and the Tulsa Psychiatric Foundation. He is a Holland Hall School Trustee Emeritus and President Emeritus of the Tulsa Historical Society.
Mr. Lawson's record of charitable giving and fund-raising is remarkable, even by Tulsa standards, and demonstrates his commitment to the community he loves.