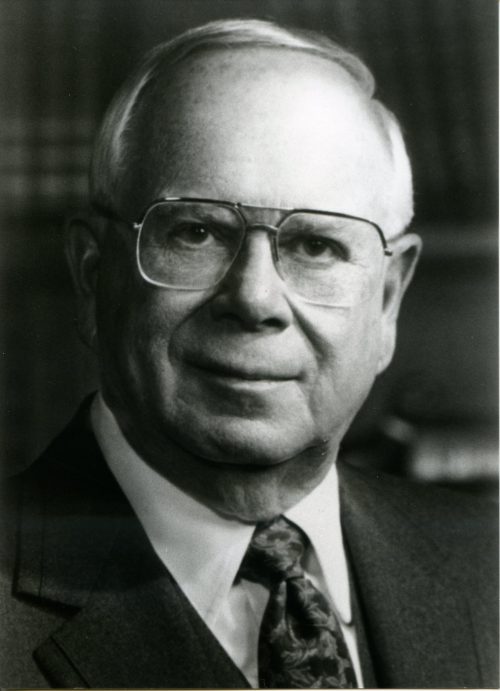 Service was a quality customers of OTASCO learned to expect when the company was under the stewardship of Edgar Sanditen. As both President and CEO of the family-owned company, Mr. Sanditen knew the value of providing customers with a diverse product line backed by satisfied service. Similarly, the citizens of Tulsa have come to rely upon Mr. Sanditen for that same quality in the continuing development of the city's non-profit institutions. Whether it is in the Arts, health care, education or community relations, Mr. Sanditen serves actively and aggressively.
An Oklahoma native born in Okmulgee, Mr. Sanditen was educated at the Western Military Academy and the University of Oklahoma. Following his service in the US Army Air Corps during WWII, he married Isabel Riffkind in 1945. Their partnership produced not only four children, but also one of Tulsa's most repeated phrases, "Isabel and Edgar are supporting it."
Mr. Sanditen is without peer in the breadth of his community service. After four decades of community service, the roster of his former commitments is extraordinary. An abbreviated list includes the Tulsa Metropolitan YMCA, the Tulsa Charity Horse Show, the National Conference, the Fenster Museum, The Junior League of Tulsa, the Girl Scouts USA, the University of Oklahoma College of Business Administration, Tulsa Opera, Tulsa Ballet Theatre, Southern Hills Country Club, the Tulsa Historical Society, Children's Medical Center, the Metropolitan Tulsa Chamber of Commerce, St. John Medical Center, Tulsa Area United Way, the Simon Estes Educational Foundation, the Tulsa Metropolitan Ministry, the American Cancer Society, Temple Israel and the United Jewish Appeal.
Such an illustrious career has not gone unnoticed by the community he has served. Numerous organizations have recognized Mr. Sanditen with their most distinguished honors. He received the "Distinguished Humanitarian Award" from the National Jewish Center of Immunology & Respiratory Medicine in 1987, the "Brotherhood Award" from the National Conference in 1991 and in 1985 he was named "Tulsa's Boss of the Year."