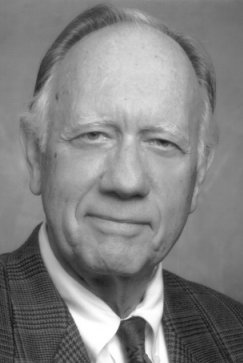 Known for his commitment to ethics in the legal profession, The Honorable Thomas R. Brett has long symbolized the highest standards of the legal profession.
Born in Oklahoma City in 1931, he graduated from the University of Oklahoma and was Tulsa's Assistant County Attorney before entering private practice with the firm of Hudson, Wheaton and Brett in 1958. From 1970-1979, he worked with Jones, Givens, Brett, Gotcher, Doyle and Bogan, Inc., until he was appointed U.S. district judge for Oklahoma's Northern District. He served as Chief Judge from 1994-1996. Brett retired as U.S. District Judge in 2003.
A retired colonel with the U.S. Army Reserve Judge Advocate General's Corps, Brett is also a member and past president of the Tulsa County Bar Association and the Oklahoma Bar Association, a fellow of the American College of Trial Lawyers and the American Bar Foundation. He has served with the American Bar Association's House of Delegates, and trustee of the Oklahoma Bar Foundation and the J.E and L.E. Mabee Foundation.
In the '80s, Brett founded the first of three local chapters of the American Inns of Court, a group promoting professionalism, ethics, civility and legal skill and shaping a culture of excellence in law. His numerous honors include the 2002 American Inns of Court Professionalism Award, presented to a senior practicing judge or lawyer whose life and practice display sterling character and unquestioned integrity. The Oklahoma Bar Association has recognized Brett with the Ethics Award and Judicial Excellence Award and the Tulsa County Bar Association has honored him with the Golden Rule Award and Outstanding Senior Lawyer Award.
Today, Brett practices law with the firm of Crowe & Dunlevy (primarily in mediation and arbitration). He and his wife, Mary, have four children and eleven grandchildren.