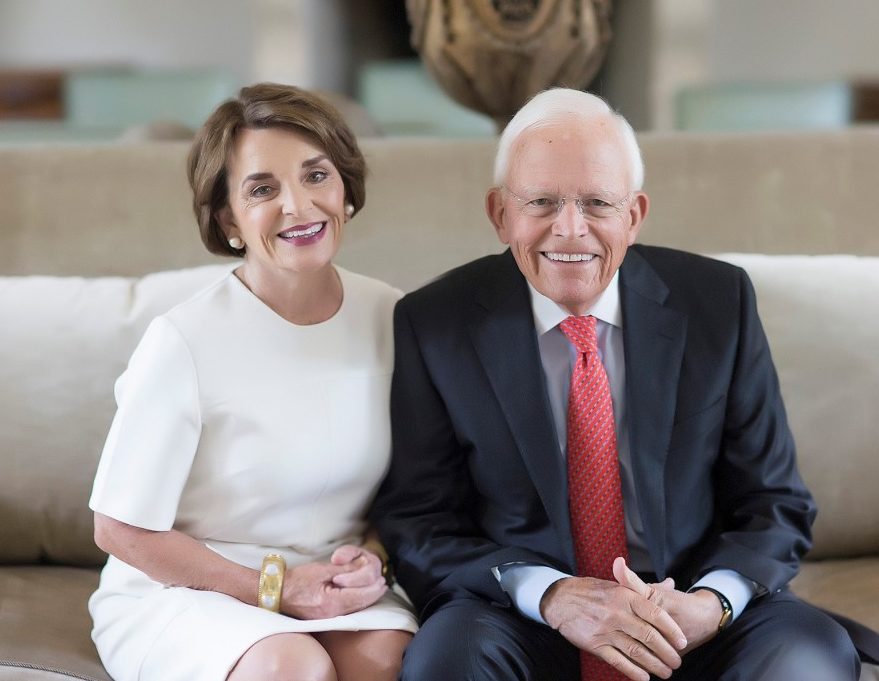 Although neither Sally nor Tom are native Tulsans, they are both native Oklahomans. Sally's family immigrated from England through Williamsburg and Kentucky and on to southern Oklahoma where her grandfather was a physician in Indian Territory.
Tom's family immigrated through Kansas and on to eastern Oklahoma, then Indian Territory, to establish a hardware store 1901. This marked the beginning of one of Oklahoma's longest continuously held, by a single family, companies.
Sally was born in Oklahoma City, graduated from high school there and then went on to graduate from the University of Oklahoma with a Bachelor of Science in Education. Her interest in education has been continuous throughout her lifetime. She believes the process of change that transforms the world happens by small acts, multiplied by many.
Sally was president of her college sorority, Kappa Alpha Theta and was honored as outstanding alumnae of the Tulsa Chapter. She also served as president of the Holland Hall Parent Association, Tulsa Town Hall Board and the Ruskin Art Club. At Philbrook, she served as a member of the Board of Trustees and as a Docent. She worked on various committees supporting the Gilcrease Museum, Tulsa Opera, and the Tulsa Symphony Orchestra. Together she and Tom chaired the Salvation Army Dinner. She is an Elder at the First Presbyterian Church. She has mentored students at Alcott Elementary School and Emerson School for the last fifteen years.
Tom was born and reared in Cushing, where his grandfather moved in 1901 to open a hardware store. Previously, his grandfather traveled the Indian Territory as a salesman for a wholesale hardware distributor in Kansas and opened a hardware store in Blackwell when the Cherokee Strip was opened for settlement. In 1923, he opened the first Hughes lumberyard in Cushing.
Tom graduated high school from the New Mexico Military Institute in Roswell in 1951 and, in 1955, graduated from the University of Oklahoma with a bachelor's degree in business administration. Following college, Tom served two years as an active duty U.S. Marine Corps officer.
Following his military service, Tom joined the family business in 1957 and over the next several years purchased the interests of other family members. Today, Tom is Chairman of Hughes Lumber Company, which operates lumber and building supply centers in nine central and eastern Oklahoma towns and is headquartered at the Tulsa Port of Catoosa.
Sally and Tom married in 1961, began their family in 1963 and moved the family and business to Tulsa in 1970. Like Sally, Tom has held numerous leadership positions including: serving on the Board of Directors of the Tulsa Regional Chamber and as Chairman in 1982; as a member of the Oklahoma Judicial Nominating Commission in 1983; and as a member of the Holland Hall Board of Trustees and as President of the Board from 1983-85. Tom is now an Emeritus Trustee. In addition, he has been a member of the Board of Governors of Southern Hills Country Club, serving as President in 1988; a member of the Board of Trustees of First Presyterian Church, serving as Chairman from 1990-92. Tom served two decades as a Director of the BOK Financial Corporation and the Bank of Oklahoma from 1976 -1996. He also is a member of the Board of Directors of the Lumbermen's Merchandising Corporation, serving as its Chairman in 2003-04.
Sally and Tom have three children Jeff, Robert and Holly Lehman and seven grandchildren, all of whom live in Tulsa.