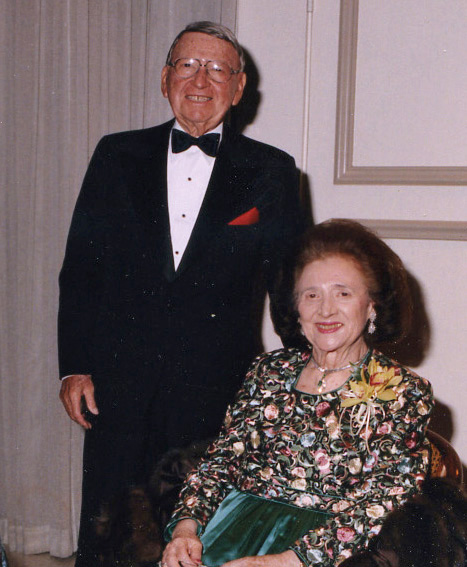 The legacy of Herbert and Roseline Gussman represents the culmination of his pioneering work in the energy industry and the couple's life-long devotion to music, art, and their passion for family and community.  They met at Cornell University in Ithaca, New York; the college Roseline's Tulsa Central High School chemistry teacher recommended.
Roseline was born in Parkersburg, West Virginia in 1913 to Isadore and Sophie Nadel.  The Nadel family moved to Marietta, Ohio and then on to Tulsa Oklahoma where her parents opened a grocery store at 18th and Cincinnati.  To provide for their only child's college education, the Nadels started by putting a nickel in a jar every day.  Their hard work and good fortune made life easier for their daughter.  Roseline ultimately obtained a degree in German studies from Cornell.
Herbert, an economics major from New York, partially supported himself through college by playing piano and alto saxophone in a small band he had established called, "The Pied Pipers." He played for campus and local audiences and spent his summers, working and entertaining at vacation resorts by playing the piano.  Herbert also excelled in track and field.
After graduation, the couple married in 1935 and settled in New York City.  Ten years later, they moved to Tulsa where Herbert joined his father-in-law in forming Nadel and Gussman, a small independent oil company. Herbert served on several boards – among them the Missouri Pacific Railroad, the First National Bank of Tulsa and the Tulsa Philharmonic.  He also loved sports and took both golf and piano lessons well into his mid-nineties.
Roseline was very active in Hadassah, eventually joining the National Board, Bnai Emunah Synagogue and other civic organizations.  Throughout her life, she continued to take classes in music and art appreciation at the University of Tulsa.  Roseline loved to travel and followed news of the political world for her entire life, going to Washington, D.C., joining American Foreign Policy groups and encouraging others to become involved in education and philanthropy.  She lived a long life filled with books, her family and friendships.
Herbert, and his Cornell classmate, Burch Mayo, founded the Tulsa Philharmonic in 1948. Throughout the years, he maintained great friendships with many of the artists who performed with the Tulsa Philharmonic.  During the 1940s and 1950s, Herbert spent one month each summer studying piano at Julliard.
Herbert's encouraged young artists at the University of Tulsa where he established the Gussman prize for outstanding graduate and undergraduate students.
The Gussmans' interest in art grew throughout their marriage and so did their personal collection.  Herbert developed a love of African art and with his brother, Lawrence who lived in New York, spent many summers travelling in Africa.   Roseline and Herbert endowed and donated many works to the Gussman Collection at the Philbrook Museum to be treasured and enjoyed for present and future generations.
They were proud of this city, and loved its natural beauty, its people and its potential to offer the best of music, the arts and loyal friendships.  The Gussman family includes: two daughters, Ellen Adelson and Barbara Heyman, six grandchildren and seventeen great-grandchildren.