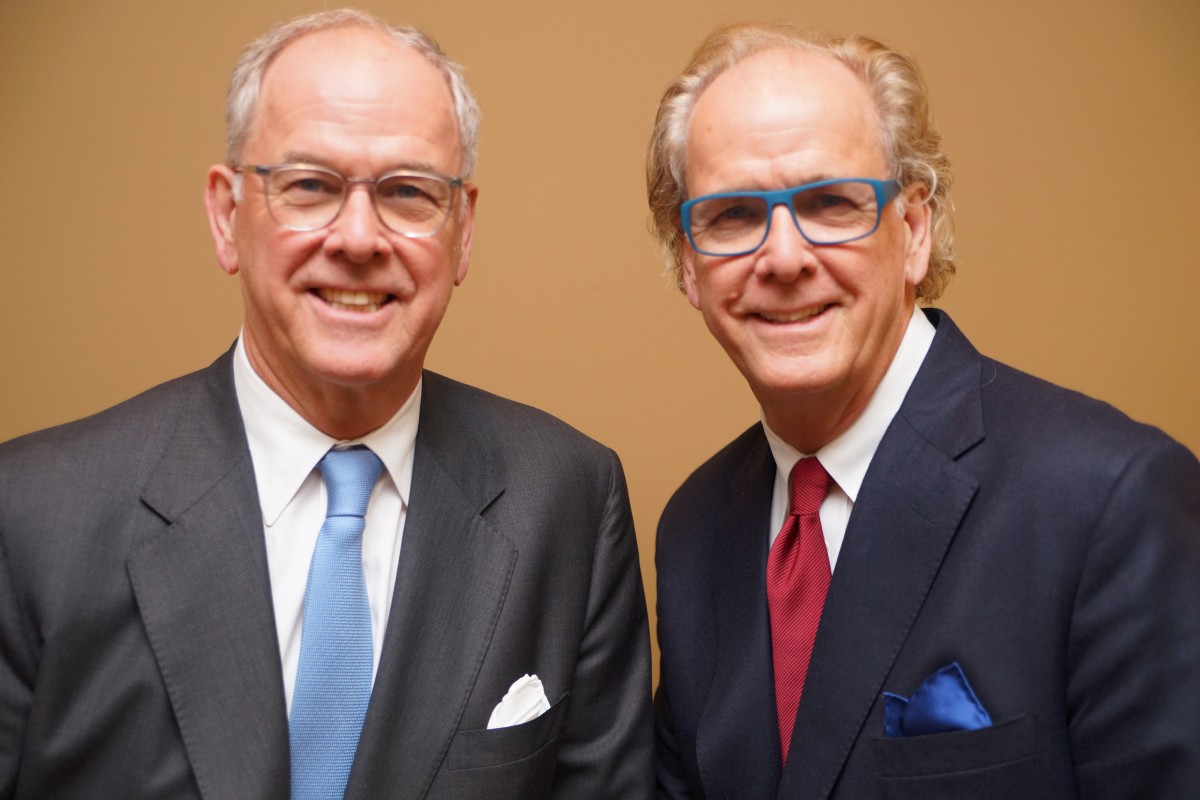 William and Robert Thomas
In 1976, twin brothers Bill and Bob co-founded Gemini Properties — a real estate operating and investment company. The company's focus evolved toward seniors housing in 1989 with the founding of Senior Star. The company's living and care options for aging adults include independent living, assisted living, and memory support. A growing company with strong leadership has enabled the brothers to focus their energies on senior and community issues.
Longtime Tulsa Area United Way (TAUW) supporters, Bill and Bob chaired the 2002 TAUW capital campaign, raising a record-breaking $25 million in the midst of the country's financial recession. The following year, the pair served as board co-chairs of TAUW.
Bill and Bob have had the unprecedented honor of receiving three distinct awards from the Association of Fundraising Professionals Eastern Oklahoma Chapter — being named as the 2000 Outstanding Volunteer Fundraiser, the 2007 Outstanding Philanthropist, and most recently the 2016 Pillar Award Recipient for philanthropy leadership benefitting the Tulsa community. The Retired Senior Volunteer Program of Tulsa granted Bill and Bob their 2001 Leadership Award and their alma mater, the University of Tulsa, named the brothers their 2011 Outstanding Entrepreneurs, inducting them into the Collins College of Business Hall of Fame.
William Thomas
Bill served as chairperson of the Philbrook Museum of Art Board of Trustees, as well as for the American Seniors Housing Association (ASHA) and the Tulsa Community Foundation. Bill also serves on the boards of Philbrook, ASHA, the University of Tulsa, and the Cystic Fibrosis Foundation Sooner Chapter.
Bill and his wife Susan have chaired fundraising galas and capital campaigns for LIFE Senior Services, Domestic Violence Intervention Service, Project Woman, and Street School. They also chaired the Philbrook Wine Experience twice, leading it into one of the top three fundraisers of its kind, nationwide.
Among Bill's most significant contributions to Tulsa is his seven-year term of board service to the Housing Authority of the City of Tulsa, which included his chairpersonship of HOPE VI, a Public Housing Revitalization Program. This $60 million public-private undertaking eliminated 1940s vintage housing and made way for "Country Club Gardens" — 396 units of exceptional residential apartments for low income and market rate housing.
Robert Thomas
Fueled by a passion to help end Alzheimer's disease, Bob served on the Alzheimer's Association National Board of Directors for eight years and was a founding board member for the Alzheimer's Impact Movement, where he continues to serve as Treasurer. As volunteer lobbyists, he and his wife Jill routinely travel to Washington D.C. to promote increased Alzheimer's research funding.
Jill and Bob have chaired several galas in the Greater Tulsa area. Bob chaired the 2015 Alzheimer's Association Oklahoma Chapter Memory Gala, an event known as being among the top three fundraisers of its kind, nationwide. Bob received the Maureen Reagan Outstanding Advocate Award from the National Alzheimer's Association.
Bob holds advisory board positions for the American Seniors Housing Association and LIFE Senior Services. For LIFE, he also co-chaired two capital campaigns. Bob served as the Tulsa Opera Ball Patron Chair and chaired the Mental Health Association of Tulsa Gala.