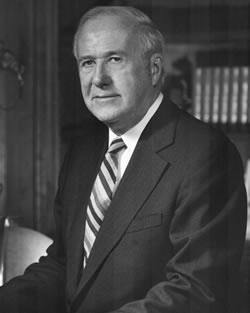 Robert E. Thomas has a distinguished career and world wide reputation in the energy industry. He was a founder in 1974 of the International Society of the Energy Advocates. Mr. Thomas is also the founder and retired chairman of the Board and CEO of MAPCO, Inc. MAPCO was an integrated energy company exploring for oil, gas and coal; producing, refining and marketing oil, gas, and natural gas liquids; producing and marketing coal and hard minerals; operating the nation's largest gas liquids common carrier pipeline system and the world's first anhydrous ammonia pipeline; and in addition, producing and marketing liquid plant foods and sonic instrumentation devices.
Mr. Thomas is an Ohio native and was graduated from the Wharton School of Finance and Economics of the University of Pennsylvania with a B.S. in Economics in 1936. His business career began in Boston with Keystone Custodian Funds and he moved on to become a vice president of Pennroad Corporation in New York City; and then served as chairman of the executive committee of the M-K-T Railroad Company.
His community service is prodigious, ranging from leadership roles in the Boy Scouts of America to the Metropolitan Tulsa Chamber of Commerce. He is Chairman Emeritus of the Tulsa Area Chapter of the American Red Cross and in 1980 led the first Tulsa United Way campaign for over $5 million, exceeding the goal. He maintains leadership positions in the energy industry and has been widely recognized for his efforts on behalf of United States energy problems and his commitment to the betterment of our society.