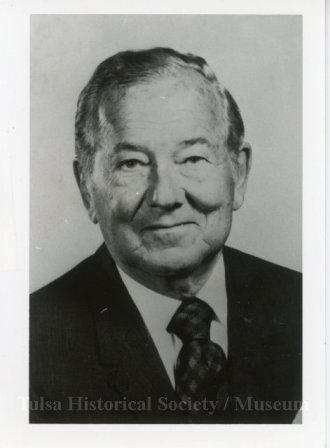 Raymond F. Kravis, has dedicated himself to improving the lives of his neighbors, whether they live down the street of half a world away. Kravis, who was born in England, arrived in Tulsa in 1924 as a newly graduated engineer. His technical expertise was quickly noted and in a short time his engineering consulting firm was advising the petroleum industry on projects stretching around the globe.
Having achieved unqualified success within his professional life, Kravis began a career in philanthropy noted for its energy and generosity. His support of the community touched the areas of higher education, human relations, cultural affairs and the health and welfare of both the young and old. Kravis has served on the boards of Children's Medical Center, the Tulsa Community Chest, the Tulsa Psychiatric Foundation, St. John Hospital, the Tulsa Philharmonic and Philbrook Museum. His exemplary support of Jewish institutions has earned him recognition by numerous organizations, including the prestigious Brotherhood Award conferred by the National Conference of Christians and Jews.
Perhaps the best symbol of Kravis' impact upon Tulsa is the recent dedication of a wing to Philbrook Museum honoring his generosity. New luster will be added to an institution which for fifty years and served as the emblem of personal commitment to the people of Tulsa.