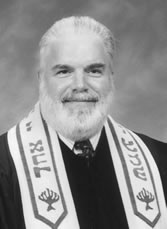 A native of Pittsburgh, Pennsylvania, Rabbi Charles P. Sherman was educated at the University of Pittsburgh and the Hebrew Union College-Jewish Institute of Religion in Cincinnati, Ohio where he was ordained in 1969.
Rabbi Sherman has been an Adjunct Instructor at the Phillips Theological Seminary and has taught in the Department of Philosophy and Religion at the University of Tulsa. He currently serves as Vice-Chair of the Reform Movement's Commission on Synagogue Management.
The Rabbi writes a monthly column for the Tulsa Jewish Review and has had sermons, reviews, and articles published in Living Words: Best High Holiday Sermons of 5759; Brotherhood Magazine; The American Rabbi; The Christian Ministry; and The Jewish Spectator.
Rabbi Sherman has served as President of the Southwest Association of Reform Rabbis, the Tulsa Ministerial Alliance and the Tulsa Police and Fire Chaplaincy Corps. He is the only person to serve as president of both the National Conference for Community and Justice, Tulsa Region and the Tulsa Metropolitan Ministry.
The Rabbi currently chairs the Board of the Knippa Interfaith/Ecumenical Lecture Series and has served on the Institution Review Board of Hillcrest Medical Center, the Board of Directors of Leadership Tulsa, The Community Service Council, Planned Parenthood of Eastern Oklahoma and Western Arkansas, and the Policy Council of the Oklahoma Religious Coalition for Reproductive Choice
He has received many awards, among them for promoting Community Interfaith Understanding. Nancy Sherman, the Rabbi's helpmate and partner for the past 40 years, is an Adjunct Instructor in Cultural Geography, Humanities and American History at Tulsa Community College. The Shermans have three adult children.