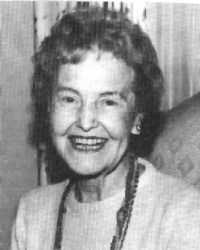 Patti Johnson Wilson, civic leader, philanthropist and world traveler, was born in Pauls Valley, Oklahoma, and moved to Tulsa at the age of four. She attended the Tulsa Public Schools and was inspired at an early age by prominent Tulsa piano teacher, Patti Adams Shriner. At fifteen, she began supporting herself by teaching piano and playing for a classical dance studio. With the savings accumulated from these efforts, the help of a small scholarship, and a loan from the Rotary Club, she was able to enroll in the School of Music at the University of Kansas. She reminisced that this experience taught her much about life. "It was a wonderful piano department and for someone who loved music as I did, it was almost heaven—even if I did have to watch my nickels and survive mostly on soup and cornbread." A job at a local radio station playing piano in a trio at eight in the morning helped pay the bills. She was awarded a Bachelor of Music degree in three years, graduating at the depth of the depression.
With loans to repay, she established her own piano studio in Tulsa where she taught and gave recitals. During this time she was active in the Piano Study Club and the Hycheka Club and performed numerous concerts. She was also a member of the original board of Concertime.
Twice widowed, she is the wife of Colonel Francis J. Wilson, retired regional head of the U.S. Corps of Engineers, who was one of the principal architects of the Kerr-McClellan Arkansas Navigation project. With her first husband, the late John H. Leavell, a M.I.T. trained mining engineer and U.S. Petroleum attaché, she traveled extensively in Europe, Africa, and the Middle East. After his death, she successfully managed their widespread interests in mining and oil and gas, causing those various enterprises to flourish. Her second husband, the late George A. Stebbins, was an expert on Oriental culture. On one of their extended visits to the Far East, she was trapped in a Saigon hotel during the 1963 coup against the Diem regime.
Her cultural and charitable interests are numerous and varied, having served on the boards of the Children's Day Nursery, Tulsa Town Hall, Gilcrease Museum and the Tulsa Philharmonic. She has served on the board of Philbrook Museum of Art and was an advisory director of the Tulsa Ballet Theatre.
She is founder and principal trustee of the Patti Johnson Wilson Foundation, which she established in 1972. This perpetual trust was established to provide scholarships for needy college students. The foundation has awarded hundreds of scholarships over the years and continues to be an activity of primary interest to Mrs. Wilson. Based upon her experience, she recognizes the importance of hard work and a good education.