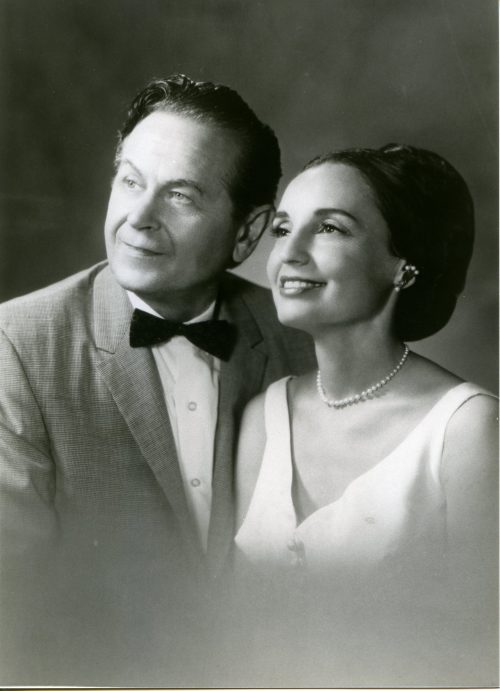 Thirty-two years of love and labor have established the Tulsa Ballet Theatre as a dance company worthy of national and international acclaim. The venerable Dance Magazine honored Tulsa Ballet Theatre's founders and artistic directors Roman Jasinski and Moscelyne Larkin as "paragons in the development of American Ballet companies," and a New York dance critic wrote of the Company's 1983 New York debut, "Tulsa Ballet Theatre is one of the best things to be associated with Oklahoma since Rodgers and Hammerstein.
The daughter of a Shawnee-Peoria Indian and a Russian mother, Miss Larkin was born in Miami, Oklahoma. She moved to Tulsa when she was nine and attended Horace Mann School. In Tulsa, she studied ballet under her mother Eva Matlogova, and later with Celli, Vilsak-Shollar and Mordkin in New York City. She joined the Original Ballet Russe at 15 and was recognized as one of the five famed Indian Ballerinas.
Mr. Jasinski was born in Poland and danced his way to honors at the Grand Opera Ballet School. He became a premier danseur with the George Balanchine Ballet de 1933 and a member of Original Ballet Russe.
Larkin and Jasinski married in 1943 in Buenos Aires. They toured two years with the Ballet Russe Concert Company and also with Alexandra Danilova's Great Moments in Ballet. As premier danseur and ballerina, they partnered some of the most famous dancers of all time.
Wishing to put down roots and raise their son, Larkin and Jasinski exchanged their globe-trotting days for the equally hectic enterprise of establishing their own ballet school. Formerly called Tulsa Civic Ballet, their company initially performed to benefit underprivileged children in need of dental care. Driven by their high level of excellence, the Tulsa Civic Ballet gradually evolved into the Company that has repeatedly drawn the dance world to Tulsa.
Within the Tulsa community, Jasinski and Larkin have established numerous programs to benefit the underprivileged, and those budding talents which might have otherwise been by-passed due to lack of opportunity. Mr. Jasinski founded a rare dance class for boys only and taught at the University of Tulsa where a scholarship program for boys was developed. The couple also taught dance and related arts to low income, Indian families with alcohol and drug problems. The Tulsa Ballet Theatre visited Tulsa Public Schools regularly, stimulating an understanding and appreciation for dance.
Under Miss Larkin's guidance, the First Oklahoma Indian Ballerina Festival was held in 1957, and again in 1967 and 1982. Roman Jasinski choreographed the ballet The Four Moons in 1967 to honor Indian ballerinas. The Nutcracker, performed by the Tulsa Ballet Theatre and guest children from local areas, is a Tulsa tradition.
Through the leadership of Jasinski and Larkin, the Tulsa Ballet Theatre has brought the world's best-known and loved dancers and dance troupes to Tulsa, and have brought Tulsa to audiences from coast to coast. In 1987, Tulsa staged Mozart Violin Concerto, a ballet never before seen in North America or performed anywhere in the world for twenty years. The nationwide furor surrounding the ballet's debut focused tremendous attention on Tulsa, and prompted the New York Times to declare the revival "a balletic miracle."
Moscelyne Larkin and Roman Jasinski received the coveted 1988 Dance Magazine award for their contributions to dance. Their inexhaustible creative energy and a dedication to their art and community are credited for bringing Tulsa to a cultural center stage throughout the nation.