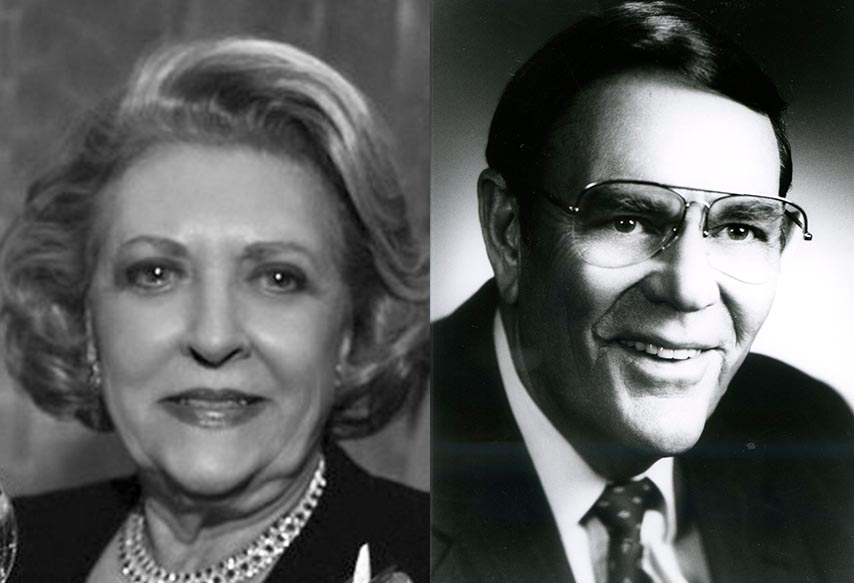 Any study of Tulsa's history confirms one important fact. Tulsa has been blessed by citizens who have come to the city and adopted it as their "hometown." In the case of Mollie and Richard Williford, it was a fortunate migration across the Red River from Texas that gave Tulsa two citizens who have greatly impacted the city.
Mollie Blansett had deep roots in Texas. A native of Houston, she attended Stephen F. Austin State College in Nacogdoches, an appropriate institution for a "Daughter of the Republic of Texas." Her marriage in 1957 to Galveston native and Texas A&M graduate, Richard Williford, would seem to predict a future in which she would be planting blue bonnets forever. However, Mr. Williford was in the oil industry and in true "oil patch" form, the Willifords moved. While Mr. Williford managed his career, Mrs. Williford managed a growing family in various cities in Texas, as well as in Louisiana and Colorado. When, in 1973, it became obvious that hiring moving vans would not occupy all of her attention, Mrs. Williford began volunteering. Her work at Key Elementary would be the beginning of a remarkable volunteer career dedicated to education and service to Tulsans.
A greatly abbreviated list of organizations which Mrs. Williford has served includes: the Mental Health Association, the American Cancer Society, Hillcrest Medical Center, the United Way, and the American Heart Association. In the arena of the Arts and humanities, Mrs. Williford's has volunteered for, or, has served on the board of directors of the Sinfonia, Philbrook Museum, the Tulsa City-County Library, Sigma Alpha Iota and Tulsa Zoo Friends. Her leadership as President has made a lasting impression on Tulsa Ballet, The Summit and the Tulsa Historical Society.
Richard Williford matched Mrs. Williford's complete commitment to Tulsa at every step. His successful business career, primarily as an independent oilman, never took precedence over giving back to the community. Mr. Williford served on the board of directors of Hillcrest Medical Center, the Indian Nations Council of Boy Scouts, Tulsa Opera, Gilcrease Museum and the Tulsa River Parks Authority, to name just a few. Additionally, he worked countless hours on behalf of his alma mater, Texas A&M. Whether it was on behalf of the school's Association of Former Students, University Development Foundation or the Major Gifts Committee of the capital campaign, Mr. Williford showed he was a true "Twelfth Man" in his passionate drive to insure a future of academic excellence at the university. His tragic death in 1996 created a leadership vacuum on both sides of the Red River.
The Williford's impeccable records of public service have profoundly influenced the Tulsa of 1997. The list of awards they have received equals in length the organizations they have served. And, as great as their influence on the institutions of the city might be, it is no greater than the profound influence they have had with the individual Tulsans who have shared their friendship. Indeed, Tulsa is very fortunate to have won such friends as the Willifords.