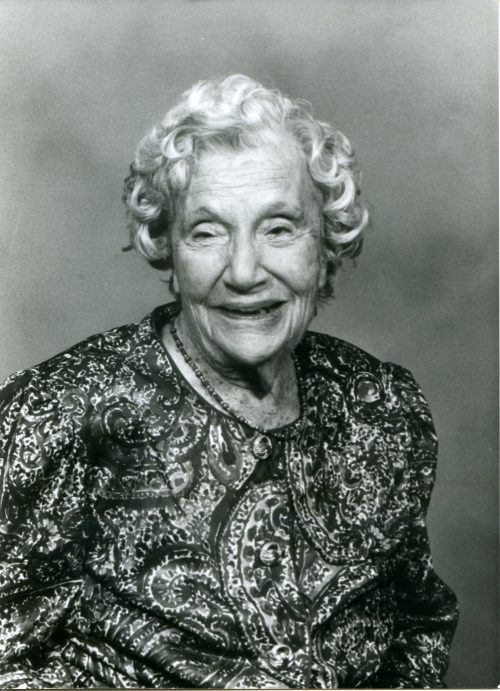 In a quieter and more gracious era, the stately residences of Stonebraker Heights stretched from downtown to the river. Across from the Creek Council Oak Tree, a large, white, frame house became Mary Veasey's home when she was nine years old. The house remains her home today.
Her father, James A. Veasey, was an attorney who came to Indian Territory with the Dawes Commission. Her mother, Olive, taught Native American children in mission schools. The emphasis placed on education in the Veasey household is illustrated by Mr. Veasey's role as one of the founders of Holland Hall School. Mrs. Leech has the distinction of being a member of that school's first graduating class – a class that totaled four members.
Following her marriage to Thomas B. Leech, Mrs. Leech began a career as an active community volunteer for a long list of organizations. To cite only a few examples, she was a member of the Junior League of Tulsa, she served on the board of directors of YWCA and she was active as an appointee to the Mayor's Commission on Disabilities.
Mrs. Leech's commitment to the community crossed many geographic boundaries. She was a founder of First Wednesdays, a book club like no other in Tulsa. The club's membership has a multi-racial, multi-cultural composition. It brings women of vastly different experiences together for discussions of literature and ideas.
It is the Chuckle Club that remains Mrs. Leech's proudest achievement. As a victim of polio in her childhood, Mrs. Leech has great empathy for children who must spend long hours in the isolation of convalescence. The Chuckle Club attempts to raise their spirits with uplifting notes and letters. Thousands of children have gained hope and confidence from Mrs. Leech's compassionate words.
Mrs. Leech embodies the collective memory of the City of Tulsa. She can remember when springs ran to the Arkansas River in what is now Veteran's Park. She remembers the cast of characters who lived extravagantly in the oil boom days. It is these memories that make Mrs. Leech a resource that captures the spirit of her community.