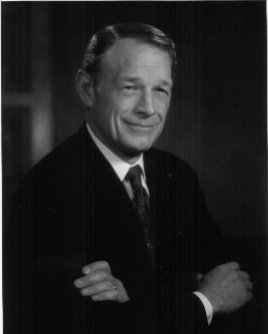 Businessman and community leader John A. Brock was born in Durant, Oklahoma. He graduated with a bachelor's degree in geological engineering from the University of Oklahoma in 1953 and served as an artillery officer in the Korean War. Brock has spent some 50 years exploring and producing oil and gas. Since 1981, he has been the president and chief executive officer of Rockford Exploration, Inc. and serves as chair of the board of directors of Brighton Energy, LLC, the AGOS Group, LLC, as a director of Fabtec, Inc., and as an advisory director of Ward Petroleum, Inc.
Brock organized and is chair of Oklahomans for Lawsuit Reform and is co-chair of Oklahomans for Workers Compensation Reform. He is a founder and director of the University of Oklahoma Sarkeys Energy Center. He endowed the Brock Chair of Energy Economics and Policy at OU and is an organizer and director of The Trust Company of Oklahoma. He created the Tulsa Innovation Center to provide new opportunities for employment and to enhance the economic environment in northeast Oklahoma.
Brock is a director of the Sutton Avian Research Center, a supporter of the Philbrook Museum, Tulsa Ballet, Tulsa Opera, and the Tulsa Zoo. He serves on the board of the Salvation Army, the Oklahoma Nature Conservancy, Gilcrease Museum, and the Indian Nations Council of Boy Scouts. Brock is a member of the Oklahoma Hall of Fame, the University of Tulsa College of Business Hall of Fame, and the recipient of the University of Oklahoma Regents Award.