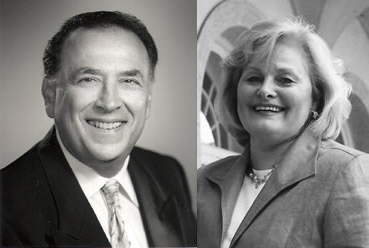 Joe Cappy is a retired rental car executive and he and his wife Patty form one of Tulsa's most dynamic couples when it comes to community service and philanthropy. Joe is the retired Chairman and CEO of Dollar Thrifty Automotive Group. Mrs. Cappy, a Texan by birth but raised in Michigan, has been active in volunteer and community service all her adult life.
Dollar Thrifty is a public company formed in 1997. Mr. Cappy led the successful Initial Public Offering of DTG and served as Chairman and CEO until his retirement on December 31, 2003.
Prior to the formation of Dollar Thrifty, Mr. Cappy was Vice President for Chrysler Technologies and Rental Car Operations, a position he retired from at year end 1997. Prior to his career at Chrysler, he was President and CEO of American Motors and held various sales, marketing, and financial positions at the Ford Motor Company. He was born in Chicago and holds a Bachelor of Arts in Marketing and Finance, University of Wisconsin.
His community work includes service as a Trustee of the Philbrook Museum and Tulsa Community Foundation, a state Higher Education Regent, and Boy Scout and Tulsa United Way leader.
Mrs. Cappy is Co-founder of a small family printing business still operated by her family in Detroit. Her community service work is extensive, stretching back to her time in Detroit, and extending to her home in Tulsa. She is the current Chairman and a past President of the Gilcrease Museum Association; has served on the Board of Directors and President of the Board of the Magic Empire Council of Girl Scouts; and her fundraising activities include support for Gilcrease, the Philbrook Museum, the Tulsa Press Club, and the United Way.
The Cappys reside in Tulsa and have six children.