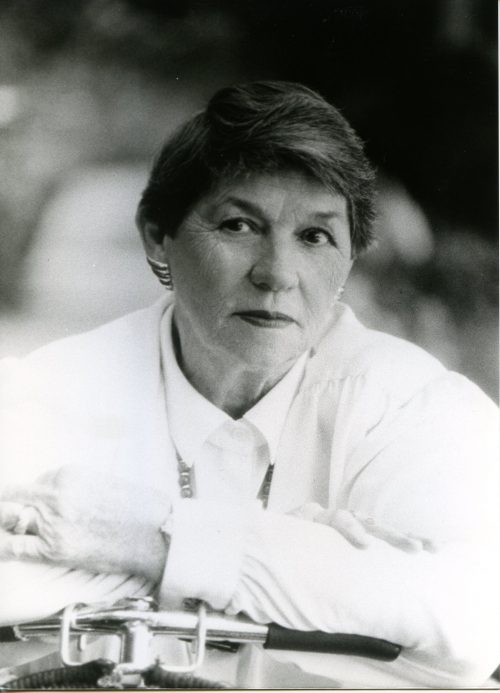 The architectural landscape of Tulsa has been changed by Jill Tarbel. Having contracted polio at the age of 13, she has a perspective many people without disabilities lack. She knows that while grand staircases may make a dramatic statement, to the disabled that statement may be "Keep Out." Mrs. Tarbel also possesses the good sense to know that many of the barriers to the disabled transcend the physical.
Mrs. Tarbel inherited a tradition of community activism from her father and mother. Their numerous philanthropic activities must have served as an early example to Mrs. Tarbel of the importance of making a contribution to one's community.
As the mother four children, Mrs. Tarbel was an active volunteer in Boy Scouts, Girl Scouts and the PTA. However, it was a position on the Mayor's Commission on Concerns of the Disabled that initiated her career in the community. Since that time she has served on the boards of the Tulsa Junior College Foundation, River Parks Authority, Tulsa Senior Services, Philbrook Museum, Tulsa Opera and Planned Parenthood. Mrs. Tarbel has been a Trustee for the University of Tulsa since 1983 and serves, currently, as the Chairperson of the Hillcrest Foundation Board. The hallmark of her service to each of these organizations is that it is not limited simply to the concerns of the disabled, but to the betterment of all Tulsans.
Tulsa is not the only forum for Mrs. Tarbel's activities. She is a Trustee at St. Gregory's College, a member of the Oklahoma Advisory of the U.S. Civil Rights Commission and has served on the National Nominating Committee of the Unitarian Universalist Association.
It is ironic that while mobility has been such an important fact in her life, Mrs. Tarbel still resides in the Zink family's Brookside home she first entered at the age of nine months.
The Tulsa Area Alliance on Disabilities created the Jill and Brook Tarbel Lifetime Achievement Award in 1996 and honored the award's namesakes with its presentation. It is a fitting award, for Mrs. Tarbel has changed something much more difficult than the physical structures of