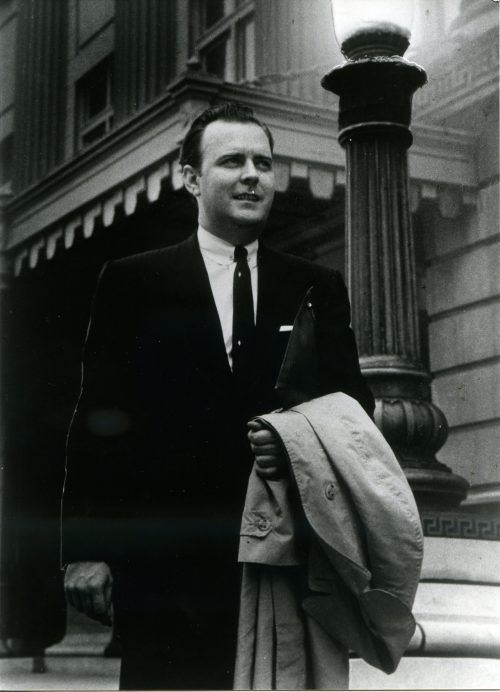 Youth may have been one reason for his tremendous energy. James Maxwell was the youngest person ever to have been elected Mayor of the City of Tulsa. More likely, it was his passionate feelings for his hometown that gave him the stamina to repeatedly work sixteen hour days in the service of Tulsa.
Following his graduation from Tulsa Central High School in 1944, Maxwell enlisted in the Army and served in combat duty in Burma and China. He returned to Oklahoma following the war and attended OSU, where he demonstrated an early talent for government as President of the Student Senate. Subsequently, Maxwell also earned degrees from OU.
It was during his four consecutive terms as Mayor (1958-66), that Maxwell made an indelible mark on Tulsa. The city, like all of the US, was experiencing dramatic economic and social changes during the period of his administration. Maxwell's initiatives were among the most progressive in the country and, as a result, he laid the groundwork for three decades of successful development. Among these actions were: the establishment of Civil Service for city employees; master plans for the development of the Civic Center, expressways and the Tulsa International Airport; acquisition of the Thomas Gilcrease Collection by the city; and the creation of the Tulsa City-County Library System. Maxwell's policies for the integration of public accommodations, policies well ahead of national trends, helped to defuse a potentially tense racial climate and were among his proudest achievements. No simple "policy wonk," Maxwell had an innate talent for inspiring others to work equally hard. His abilities to match the right person with the right task got things done. And, his seemingly effortless social grace made him welcomed in all social arenas.
Maxwell's career following his service as Mayor included a brief stint as a political consultant in Washington, DC, and a longer period managing the family's downtown Tulsa florist shop. At the time of his death in 1984, he was once again active in government as program director for the Oklahoma Corporation Commission. This was a natural position for Maxwell, who thrived on service to the citizens of Tulsa and Oklahoma. More than once, this effective public servant said of himself, "I love government, but I don't care for politics."