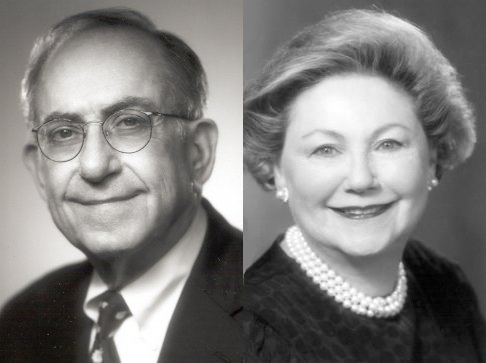 Jack Zarrow is a native Tulsan; Maxine Foreman, originally from Texas, moved to Tulsa upon her marriage to Jack in 1947. Both are graduates of the University of Texas at Austin.
After receiving his degree in petroleum engineering, Jack joined his father and brother at Sooner Pipe & Supply Corporation. During his business career, he served as Sooner's executive vice president and president of all other Zarrow family enterprises, including Bigheart Pipe Line Corporation, TK Valve, and Prime Actuator. He currently is president of Zarrow Holding Company.
Jack has served as president of Gilcrease Museum and chairman of the Grand River Dam Authority. He has served on non-profit boards covering nearly every aspect of Tulsa's community life, including Hillcrest Medical Center, the University of Tulsa, Goodwill, National Conference for Community and Justice (NCCJ), and the Tulsa Jewish Community Health Care and Retirement Center. He has also been a member of the engineering advisory boards of OU and the University of Texas as well as a variety of government task forces relating to energy and engineering. Jack has received awards from NCCJ, National Jewish Hospital, the University of Texas School of Engineering, the Jewish Federation of Tulsa, and is an inductee of the Oklahoma Hall of Fame.
Maxine has served on an equally broad array of boards, including the Margaret Hudson School, The Center for the Physically Limited, Mental Health Association, Family & Children's Services Mental Health, Gilcrease, the Greenwood Cultural Center, and the advisory board of the University of Texas's School of Education. She most recently was appointed to the Oklahoma Arts Council. In 2002, she received the Community Service Council's David Bernstein Distinguished Leadership Award for Lifetime Achievement.
Mr. and Mrs. Zarrow were instrumental in the formation of the Jewish Community's Retirement Center located at 71 st and Lewis and have participated as fund raising chairs or advisory committee members of a variety of non-profit building projects across Tulsa. Together they founded the Maxine & Jack Zarrow Family Foundation, which recently was awarded the North Tulsa Heritage Foundation's Community Service Award for the couple's commitment to mental health and social service causes.