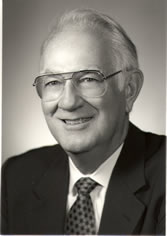 J. M. (Jack) Graves' death in July 2005 was a profound loss for his family, friends, and the larger private and public communities he served. Ann and Jack worked as a team for years in civic activities, and Ann served tirelessly on her own in numerous other areas of community service.
Jack founded Calumet Oil Company, staying actively engaged in oil and gas exploration and production for more than 50 years. He was a founder of the University of Oklahoma Energy Center and served on the University of Oklahoma Development Committee and OU's Foundation Board. He served as president of the Oklahoma Independent Petroleum Association and the International Society of Energy Advocates. He received many awards, among them from the Environmental Protection Agency and the Osage Council for his support of the Oklahoma Energy Resources Board for clean up of "orphan" well sites and the protection of underground fresh water and good housekeeping of surface locations.
He was especially active in the Boy Scouts of America at the local and national levels, and widely recognized for his support of wildlife conservation. He also was active in the Oklahoma Heritage Association, the Philbrook Museum of Art, the Tulsa Salvation Army, the Oklahoma Nature Conservancy, Nature Works, the Arts and Humanities Council, the Center for the Physically Limited, Tulsa Opera, Tulsa Ballet Theatre, and the Gilcrease Museum.
Ann Graves continues to be a full time volunteer leader in groups as diverse as the Tulsa Historical Society, the Oklahoma Arts Institute, and Hillcrest Medical Center. She has served on the National Committee for Performing Arts nearly 10 years. Jack's devotion the Boy Scouts is mirrored in Ann's to the Girl Scouts of the USA, which she continues to serve on the National Development and Nominating Committees.
Ann and Jack Graves worked together to protect and preserve Tulsa and Oklahoma heritage, and Ann continues their tradition of celebrating a sense of community in which we can all take pride.