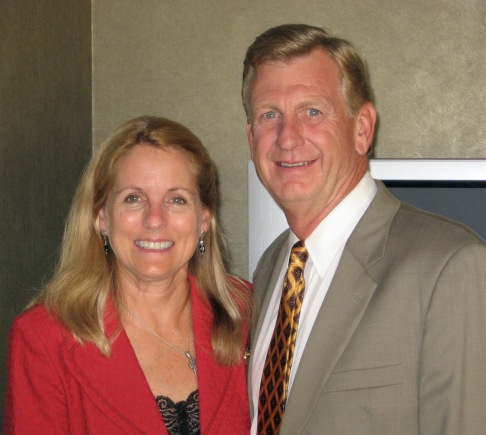 Hannah and Joe Robson were born 4 days apart in Tulsa's St. John Hospital.  Both were raised in families with three boys and one girl, and both have spent their entire lives supporting Tulsa and its surrounding communities.
Hannah's parents taught her to look for the best in people, stay positive and take advantage of all opportunities.  She attended college at ORU and in Hawaii.  While there, she auditioned and was accepted into Up With People, an international, musical group with a humanitarian message of goodwill.
Upon returning home, she graduated from the University of Tulsa with a degree in Communications.   The next 21 years were spent with Williams, as Managing Director of The Williams Companies Foundation and Manager of Community Relations.  During her tenure with Williams, Hannah served as president of the Tulsa Ballet, Metro Christian Academy and the Tulsa Chapter of the International Association of Business Communicators.  She chaired two multi-million dollar capital fund drives, and was a board member of the Tulsa Philharmonic, Tulsa Area United Way, First Presbyterian Church, and Leadership Tulsa where she received the Paragon Award.
In the late 90s, she retired from Williams.  Later, Hannah was a private investigator for 6 years.
Currently, Hannah is a member of the Oklahoma Arts Council, a Director of Tulsa Ballet and the Tulsa Zoo Management Association, a member of the Search Committee for Artistic Director of the Signature Symphony, and a Volunteer Chaplain for First Presbyterian Church.
Joe grew up on a cattle ranch east of Tulsa. His mother taught him the value of tenacity and being diligent while Joe's father taught him that a man's reputation is his greatest possession.
Much of Joe's childhood was spent swimming, working on the ranch, and taking all kinds of lessons:  piano, trumpet, ballet, and speech. His swimming career led him to Memorial High School, where he was a State Champion and All American, and on to Southern Methodist University, lettering his freshman year before a career-ending injury.
After graduating from SMU, Joe came home to start his real estate career.  In 1986, he formed the Robson Companies and began to develop part of the family ranch into the master planned community of Forest Ridge.
When Joe returned to Tulsa, he began his promotion of infrastructure improvements in the Tulsa metro area—roads, water and sewer.  He helped in the efforts to widen the Broken Arrow Expressway, the extension of the Creek Turnpike, and the break up of the old University Center at Tulsa in favor of the now stand-alone satellite universities.  Joe joined the local home builders association, which led to two terms as President of the Tulsa Home Builders Association, President of the Oklahoma Home Builders, and, in 2009, Chairman of the National Association of Home Builders.  He advocated housing issues by testifying before Congress.
Joe has served on the Board, and numerous task forces, of the Broken Arrow, Tulsa, and OK Chambers of Commerce, and is a former Chairman of the Salvation Army. He also formerly served as a Director of the Federal Home Loan Bank of Topeka, a Director of the Greater Tulsa Association of Realtors, a member of the OK Judicial Nomination Commission, as well as the United States Golf Association Greens Committee.  He is an alumnus of Leadership Tulsa and has served on various Boards of First Presbyterian Church.
In addition to being President of The Robson Companies, Joe is Chairman of the Board of RCB Bank, Chairman of the Quality of Service Coalition, a member of the Board of the local, state and national home builder associations, a Trustee of the Tulsa Airport Authority, a Trustee of First Presbyterian Church, and a member of the Advisory Board of the Salvation Army.  He loves to hunt and fish, as well as play golf, snow ski and scuba dive.
The Robsons have been married for nearly 31 years.  They enjoy spending family time with Davis and his daughter, Whitney, and Callie and her husband, Tim.