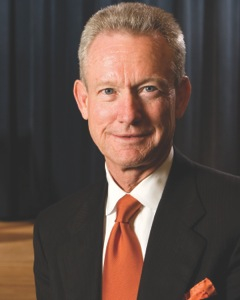 Trennepohl grew up in Tulsa living on "Route 66". His parents ran the Desert Hills Motel whose iconic neon sign is included in many books about the famous highway. He served a decade as Oklahoma State University-Tulsa's first president, starting in 1999, and retiring in late 2014 following a 37-year academic career. He taught classes at the undergraduate, master's and doctorate levels, co-authored two college-level finance textbooks, and wrote more than 30 professional journal articles on various financial topics.
Trennephol has served many Tulsa community organizations and boards including the City of Tulsa Economic Development Commission; the Metro Tulsa Chamber Board of Directors; the Tulsa Area United Way; the Oklahoma Academy for State Goals; Leadership Oklahoma (Class XIV) and The Tulsa Air and Space Museum. He was inducted into the Oklahoma Higher Education Hall of Fame in 2013 for outstanding service to higher education in the state. In 2014 he was recognized by the Spears School of Business as the Outstanding Undergraduate Professor, and Oklahoma State University presented him the "Loyal and True Award" for service to the University.
Gary and his wife, Sandra, have two daughters, Paige Lee and Adrienne Wagner, a granddaughter, Olivia Grace Wagner, and a grandson, Jaxon Gary Lee.