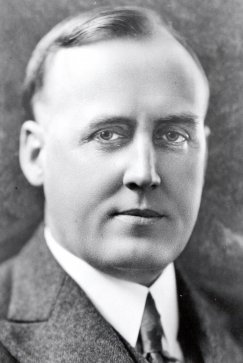 When Frederick W. Insull came to town in 1913 to organize Public Service Company of Oklahoma (PSO), Tulsa was a small community of 30,000 people. Insull played an important role in the city's rapid growth and development.
Born in 1875 in England, Insull was a cousin of Samuel Insull – the utility magnate and one-time private secretary to Thomas Edison. Insull was raised in Canada where his father managed the Winnipeg branch of Edison Electric. In 1905, Insull married Margaret Parkinson and they had two daughters, Margaret and Rosemary.
He came to Tulsa in 1913 to manage six newly purchased electric generating companies, which provided service to Guthrie, Tulsa, Vinita, Atoka, Lehigh and Coalgate. The company had 3609 customers and generated 4107 kilowatts of electricity. Service was inconsistent, provided by a community generator that typically doubled as an ice plant compressor. Electric lights were still a novelty, while ice was a more valuable commodity during hot Oklahoma summers.
As founder and first president, Insull saw PSO grow from a small generating station to the large electrical power system we know today. Insull was extremely active in the community, serving as Tulsa Chamber of Commerce president, Tulsa Municipal Airport underwriter, International Petroleum Exposition organizer and director and president of the Tulsa Community Fund.
Insull died in 1939 shortly after celebrating his 25 th anniversary as head of PSO. As noted in the Tulsa Tribune following his death, "Insull has been one of those who helped build Tulsa – with 'more than bricks and stones'. He has worked steadily for the community's development, material and spiritual."