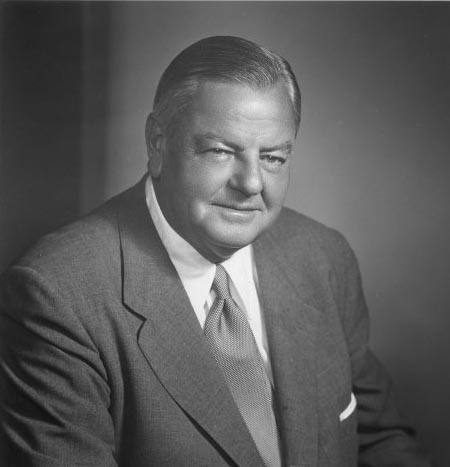 The term "community builder" can have many meanings. The term can define individuals whose vision leads to the creation of civic institutions. Or, it can refer to those who work, literally, to put paving on the streets. In the case of E. Fred Johnson , both definitions of "community builder" apply.
Mr. Johnson was born in Cleburne, Texas, on November 26, 1896. He was living with his family in Elmore City, Oklahoma, when the promises of driving lessons and a salary increase brought him to Tulsa in 1912 as a timekeeper for a paving contractor. Johnson worked on the crews that turned many of the rutted, dirt roads of downtown Tulsa into paved streets. As he could drive a car and type, Johnson briefly landed a job as a scout in the Osage oil fields.
An offer of employment at the Exchange National Bank in 1917 brought Johnson to the career where his mark would be made. His employer, Newt R. Graham, would serve Johnson as a mentor not only in business, but also in shaping a dynamic vision for a growing Tulsa-a Tulsa where ocean-going ships would dock at the future Port of Catoosa. Johnson joined Fourth National Bank in 1933. In his 35 year affiliation with the bank, he nurtured a financial institution that would, in turn, nurture the growth of a city.
In the arena of community involvement, Johnson has had few peers. He served as director, trustee or officer of an enormous number of Tulsa institutions, including: Tulsa Junior Chamber of Commerce (in addition to being the Tulsa President, he served as National President), the University of Tulsa (30 years of service, beginning as the youngest trustee ever appointed), the Tulsa Community Chest, now the United Way, (as an organizer and treasurer, he physically collected the donations and distributed the cash). The Metropolitan Tulsa Chamber of Commerce, the YMCA, the Salvation Army Advisory Board, the Park Board and the Tulsa Airport Authority can all list Johnson as a Past President. At Gilcrease Museum, he served as Board Chairman and shepherded two major building programs from bond elections to ribbon cuttings.
In an ironic twist, Johnson completed his most visible change to the city only a few months before his death in 1968. With the completion of the Fourth National Bank Tower, the Tulsa skyline (which had not altered since 1929) had a new tallest point. It was during this period of Johnson's career that he became the first appointee to the first city planning commission created by Mayor Jim Maxwell. For who could see the vision of Tulsa's future better than E. Fred Johnson.