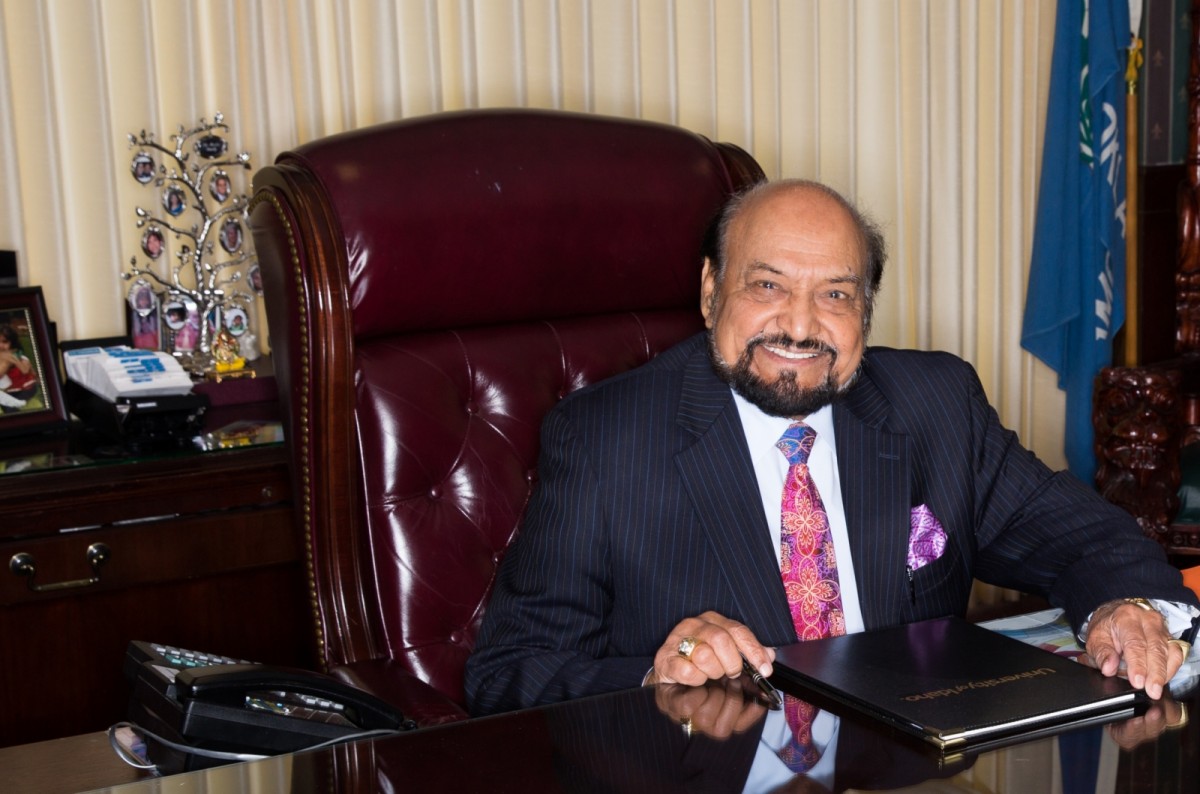 Dayal Meshri was born in 1936 in British India. After the partition of British India in 1947 into "India" and "Pakistan", his family moved to India and chose Indian citizenship. He received a bachelor of science degree with honors in chemistry from Gujarat University, followed by a master's of science from the university's MR Institute of Science. He completed his Ph.D. from the University of Idaho, and did postdoctoral work at Cornell University.
He came to Tulsa in 1969, joining Ozark-Mahoning Co.-Pennwalt Corp., as Head of Research and Research Director, where he worked for 18 years.
Dayal is currently the President/CEO of Advance Research Chemicals, Inc., "ARC", which he started in 1987, has since become one of the largest inorganic fluoride specialty chemical producers in the world. ARC makes more than 300 chemicals and caters to a variety of industries.
His research interests vary from Rocket propellants to biochemical drugs, high-energy battery systems, new material for waffers, automobile industry, electronics, fabric and metal surface treatment products, and ion implantation gases., etc. He was a member of: The European Grand Sasso Neutrino Project: the Space Research Advisory Board at Princeton University: the Advisory Board for Scientific Curriculum at TJC (TCC): and the Oklahoma Center for the Advancement of Science and Technology (OCAST) since 2005.
He was inducted into the University of Idaho Alumni Hall of Fame in 2008 and the College of Science Academy of Distinguished Alumni in 2010.
Dayal is an author and co-author of many technical papers, patents, books, and encyclopedias of chemical technology. Furthermore, he is well recognized internationally as an expert industrial fluorine chemist, coordinating his research with associates in numerous countries.
His many national and international professional affiliations include: Fellow of American Institute of Chemists and member of the Board of Directors; Trustee for North Gujarat Education Society and Trustee for the University of Idaho Foundation. He is Chairman and Founder of the International Society of Indian Chemists & Chemical Engineers,
He has received numerous honors and awards from local, state, national and international groups and organizations and supports many local, national and international charities.
Dayal married his late wife, Dr. Indu Meshri, in 1966. They have two children, Gita and Sanjay, and five grandchildren.