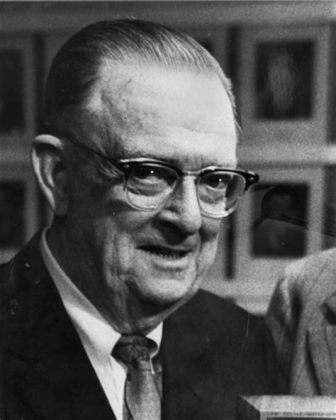 Thousands of drivers travel old Highway 33 east of Tulsa every day. The vast majority of those travelers automatically think of one name, Dan. P. Holmes as their tires roll on the four lanes of concrete. It was Mr. Holmes advocacy for the improvement of that important link with northwest Arkansas that led to the current highway's existence. The modern highway is a fitting symbol of Mr. Holmes' dedication to Tulsa.
The Holmes family moved to Tulsa from Fayetteville, Arkansas, in 1913. The trip must have been a long one, for it left a permanent impression on the 12 year old Dan. Mr. Holmes began his business career shortly after coming to Tulsa by selling newspapers after school. Mr. Holmes established Dan P. Holmes and Associates in the 1930's. While the business climate of the city was not bright during that period, Mr. Holmes managed to make the insurance firm a success. "You had to fight to make a dollar – and then fight to keep it," summed up Mr. Holmes feelings about the time.
Mr. Holmes became active in a variety of Tulsa civic causes. He was chairman of the 1955 Community Chest fund drive, served on the boards of the University of Tulsa and the Performing Arts Center Trust, and was a major supporter of the 4-H and the Future Farmers of America. However, it was his battle to improve Highway 33 that became the cause most closely associated Mr. Holmes. The Tulsa airwaves and print media were filled for decades with his pleas to widen the road. As a businessman, he knew that Tulsa's role as a commercial center of the region depended on adequate transportation connections and he believed the tie with northwest Arkansas was essential.
Highway 33 from Chouteau to its connection with Interstate 44 east of Tulsa is named the "Dan P. Holmes Expressway." The wide, safe and efficient highway is the memorial Mr. Holmes would have most appreciated.