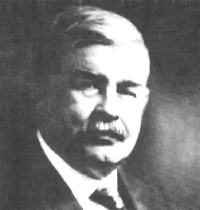 Charles Page envisioned a self-sustaining institution that would support orphaned children. That dream materialized on June 2, 1908, when he established the Sand Springs Home. Page developed a real estate and industrial base to ensure financial support for the Home, which has been providing shelter to orphaned children and widows for over ninety years.
Page was born on June 2, 1860, in Stevens Point, Wisconsin, where people had to struggle for the necessities of life. When he was 11 years old, Page's father died, and he virtually became the head of the family; the older children were nearly all married and no longer lived at home. He took care of his mother and younger brother through the hardships of their lives. Page comforted his disheartened and discouraged mother with a declarations that predicted his future achievements: "Mother, don't cry. Wait until I get to be a man! I will take care of you and you won't have to work and I will take care of all other mothers and poor boys and girls, too!"
Page possessed two ambitions—first, to make money; second, to use that money for the benefit of the down-and-out. Page worked in Washington, British Columbia, Colorado and Michigan gaining experience in mining, real estate and oil drilling. From Michigan, he came to Oklahoma and furthered his career by buying and selling leases to a variety of oil companies.
In 1908, Page purchased a quarter section of land several miles west of Tulsa, initiating the plan to establish a home for the homeless. Nearby, Page ultimately built the industrial and manufacturing town of Sand Springs. The name came from the Creek Indian words "Oktahv Uekiwv," which literally means sand water and described a large spring on the property. Although the Sand Springs Home began with one widow and her children residing in a tent, it grew rapidly, and in 1910, fifty children occupied a large frame building. Throughout the years, an increasing number of people sought shelter in the Home, causing repeated expansion of the housing facilities.
Apart from his generous contributions surrounding the Sand Springs Home, Page supported various charities including the Salvation Army of Tulsa and Sand Springs, the YMCA and YWCA of Tulsa, The Tulsa County Humane Society, Tulsa County Public Health Association, Family Welfare Association of Tulsa and the American Red Cross Association. When Page died in 1926, sorrow filled the hearts of the many people who had been touched by his constant care and protection. Page's memory lives on as the Sand Spring Home continues to flourish.