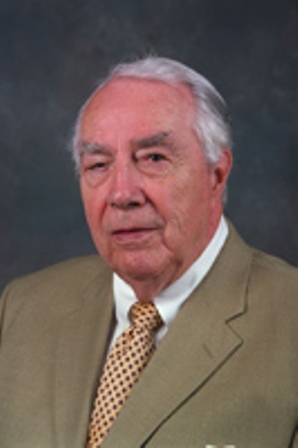 The high caliber of Tulsa's intellectual discourse has been among the most important facets of the city's development. Ben Henneke's voice has been at the center of that discourse for almost five decades.
Dr. Henneke came to Tulsa from St. Louis at the age of four. He was educated in the Tulsa Public Schools and was graduated from Tulsa Central High School. His educational background includes degrees earned from the University of Iowa and the University of Illinois.
By combining classroom teaching with an active career in radio broadcasting, Dr. Henneke has been in a unique position of influence. A career at the University of Tulsa began with an assistant professorship in 1936 and his teaching career continued until 1952 when he assumed the position of Academic Vice-President. Dr. Henneke served as the President of the University of Tulsa from 1958 – 1967. During this entire period his broadcasting career kept him involved with KWGS (he founded the station in 1947), KVOO (he was a censor during WWII), and NBC. "Hey, Rube," a radio program which featured Tulsa's brightest talents during the 1940's, is still a local broadcasting landmark. Dr. Henneke returned to the classroom as the Trustee Professor of Humanities following his retirement from the university's presidency. While his teaching career ended in 1982, his radio commentaries continue to be heard on KWGS.
Dr. Henneke is the author of several texts on radio announcing and speech. His scholarly work on the nineteenth century actress Laura Keene resulted in the publication of a biography in 1990. Through numerous book reviews, articles, and essays published in The Tulsa World and The Tulsa Tribune, Dr. Henneke's perspectives on cultural concerns have enlightened and entertained. His wit can be counted as one of Tulsa's greatest assets.