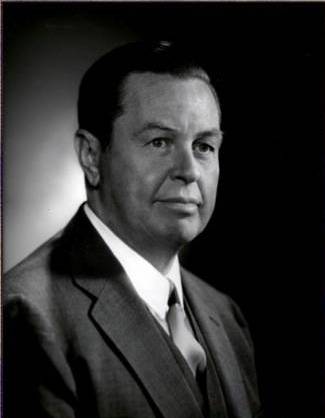 Alfred Randolph (Bill) Tandy flew his B-26 Marauder, a twin-engine, medium bomber, over Europe on 50 successful missions during World War II. The resolve and discipline he developed during those flights empowered him to carve an independent path in Tulsa, separate from the Tandy family legacy in Fort Worth, Texas.
The name Tandy, of course, is synonymous with the tenacious, innovative and entrepreneurial spirit that built a variety of innovative retail businesses. Tandy's grandfather, Dave, in 1919 in partnership with Norton Hinckley, created the Hinckley-Tandy Leather Company, which would evolve into a multifaceted, multibillion dollar organization that oversaw the growth of businesses that eventually would be knows as Tandy Leather Factory and RadioShack. The latter may be remembered as introducing in the 1970s the TRS-80, one of the first affordable personal computers on the market.
Bill Tandy married Marylouise Oak in September 1944. The couple had two children, A.R. Tandy, Jr., called Rant, and Carol. In 1957, Bill Tandy purchased Tandy Industries, which specialized in property development nation-wide, building homes and institutional buildings such as dormitories and libraries. In addition, he was president, CEO, and a director of Great Yellowstone Corp., a Tulsa-based oil and gas producer.
He attended Texas Christian University, the University of Minnesota, and Loyola University in Baltimore. He received an honorary degree from Ricker College, Houlton, Maine, in 1966.
He was active in several Tulsa organizations including Young Presidents, Junior Achievement of Greater Tulsa, the YMCA, and the Metropolitan Tulsa Chamber of Commerce.
The A.R. and Marylouise Tandy Foundation, established in 1985, recently contributed $14 million to The University of Tulsa to fund the A.R. and Marylouise Tandy School of Computer Science. Mr. Tandy died in 1971, at the age of 49. His widow Marylouise, who died in 2009, was graduated from The University of Tulsa in 1944 and was named distinguished alum in 1998.